Adding an activity to other administrative accounts allows them to see and access the activity from the Manage Your Program menu in their own admin account.  Depending on your account's permission levels, you can:
pull up a single activity and assign it to multiple admin accounts, or
go to the Accounts tab and add multiple activities at once to a single account. 
Add or Remove a Single Activity for Multiple Admin Accounts
First, be sure the activity is selected from the Manage Your Program menu, then go to the Review stage on the Production tab. Click Assign to Administrator... to manage access for other administrative accounts. If the desired administrative account is not listed, please contact the Rievent Platform Administrator in your organization.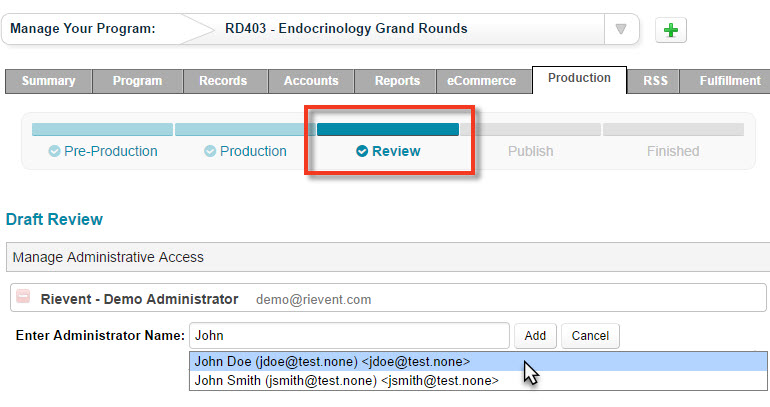 Add or Remove Multiple Activities at Once for a Single Admin Account
You must have the "Manage Admin Account" permission enabled on your account in order to perform the steps below.
From the Administrative Accounts page under the Accounts tab, click the Manage link for the admin account you wish to add/remove the activities to.





Click the Edit link under Programs.




Check the boxes for the activities which the account holder may access. Inactive activities appear grayed out, but may still be assigned for access. To remove an activity from the admin account, uncheck the box next to the desired activity.