The Rievent team is excited to announce the release of Rievent Platform v9.0.
In version 9.0, Rievent delivers powerful new production tools for Regularly Scheduled Series and Live Events, a new Webinar CME template, UI enhancements, a streamlined production process, a new Events Calendar for your learners, and more.
Administrative Features:
NEW! Webinar CME Template.  Configured to work with any webinar vendor (WebEx, GoToWebinar, etc), you can now process requests for credit following live CME webinars, or for webinars you publish as enduring content. 

NEW! Session management table for Live Events and Regularly Scheduled Series. Quickly view all sessions, including session details, dates, start/end times, access codes, and credit amounts. Perform quick edits by simply double-clicking a field in the table. You can also now remove multiple sessions at once.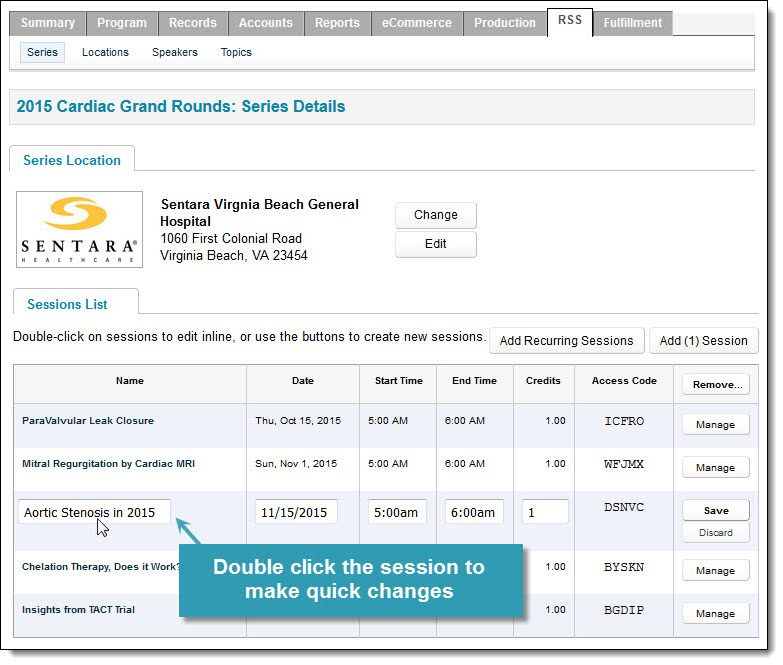 NEW! Recurring Scheduler for RSS activities. This powerful new tool allows you to create a group of recurring sessions.  Options let you specify day of the week or day of the month, frequency, start/end time, and credit amounts. A preview button provides a glance at all the sessions that will be created, with options to remove individual sessions if needed.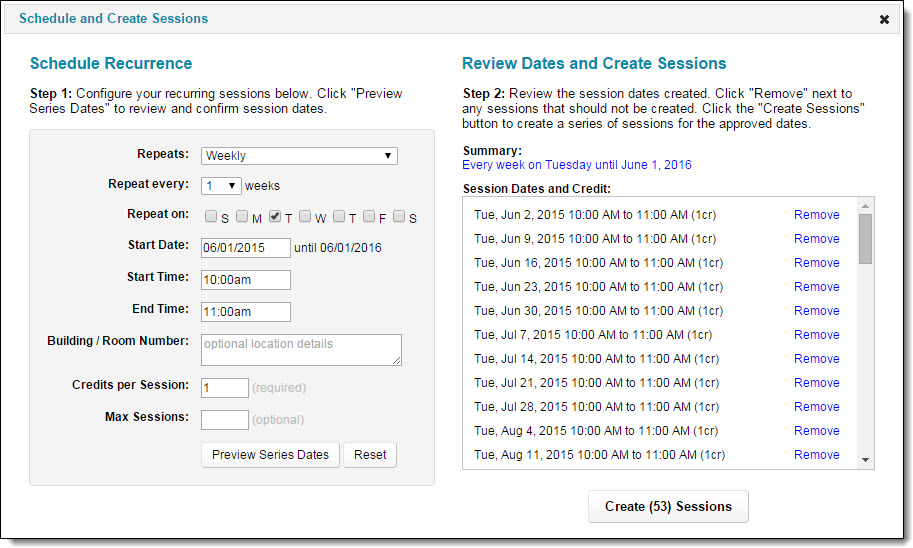 NEW! Export Learner Accounts. From the Accounts tab, a new link provides a csv. export of all learner accounts in the Rievent Platform.

NEW! 

Link to learner account from the Record Details page

. The Account ID # links to the learner's persistent profile.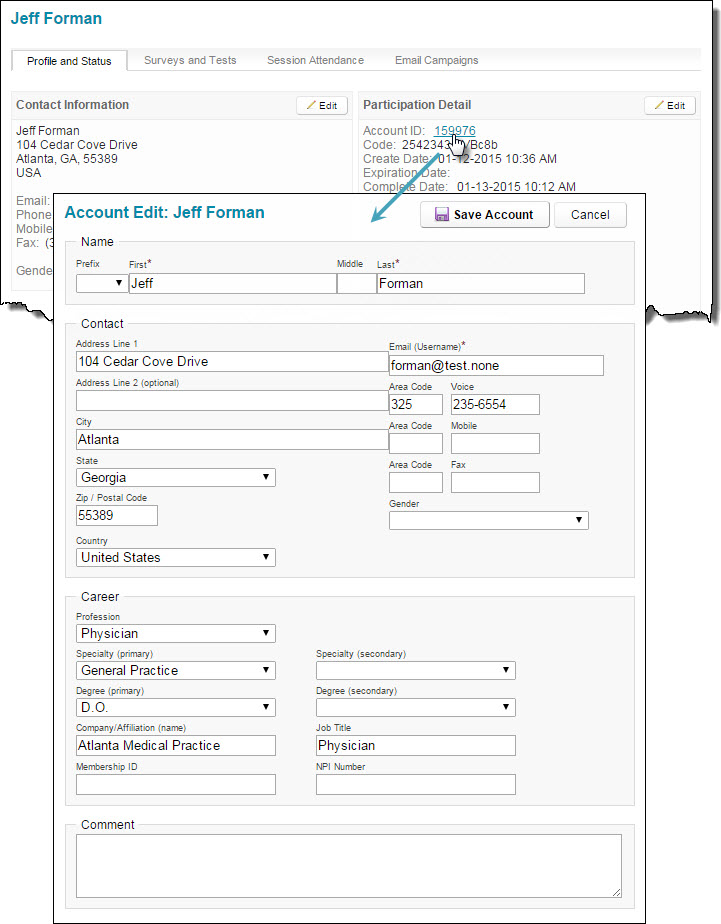 NEW! Unlimited capacity option for Live Events. Set an event's capacity as unlimited from the Event Scheduling page on the Live Events tab.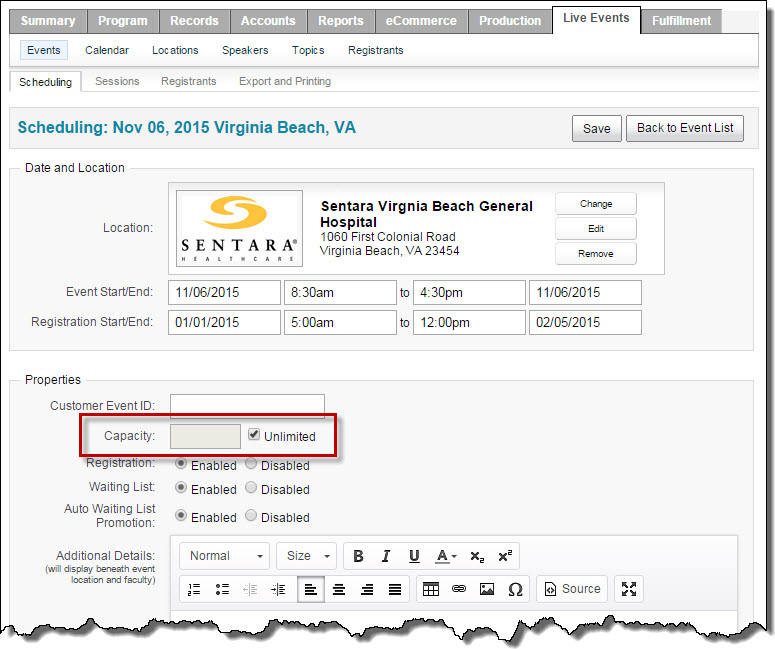 Enhanced Session Attendance report for Live Event and Regularly Scheduled Series.

 This report now includes the average session attendance and also displays each session's credit information, date, and time.  If there are speakers or session details associated with a session, they will display on the report as well.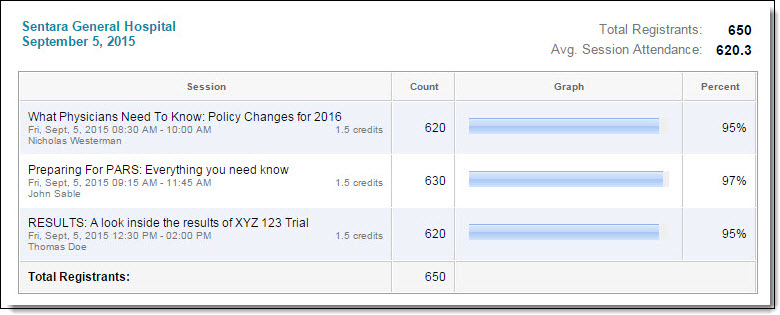 On the Production tab, activities are now locked immediately after the Draft Review Stage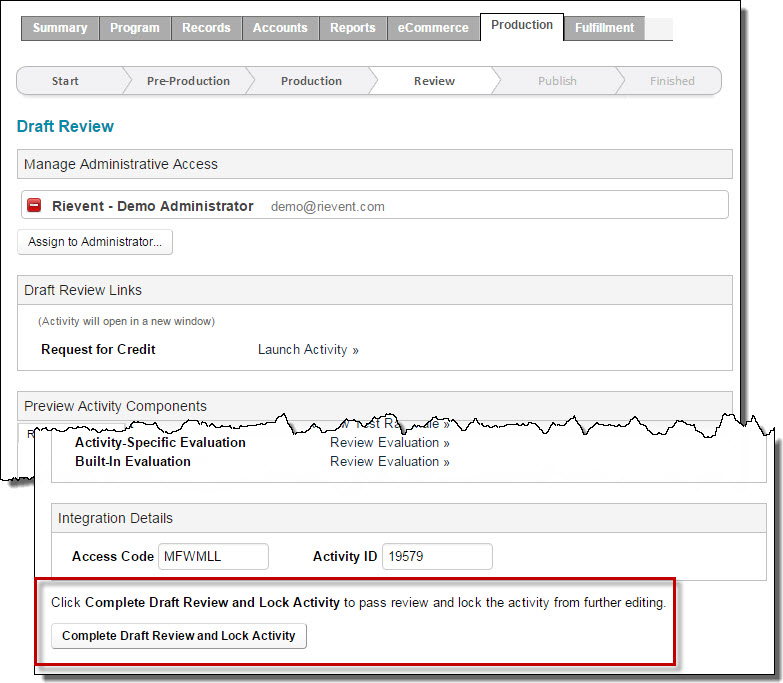 The unique Activity Access Code and Activity ID are now accessible from the Draft Review and Publish stages on the Production Tab.
The "Share Activity Links" are now available before publishing an activity to the CE Catalog or Events Calendar.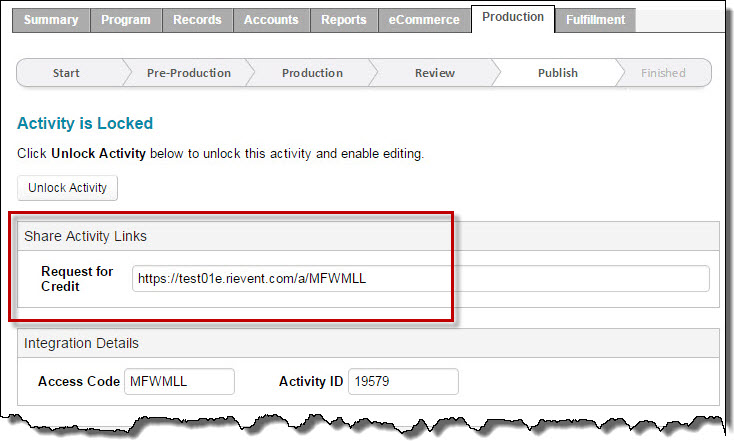 New option to publish an activity to the CE Catalog or Events Calendar.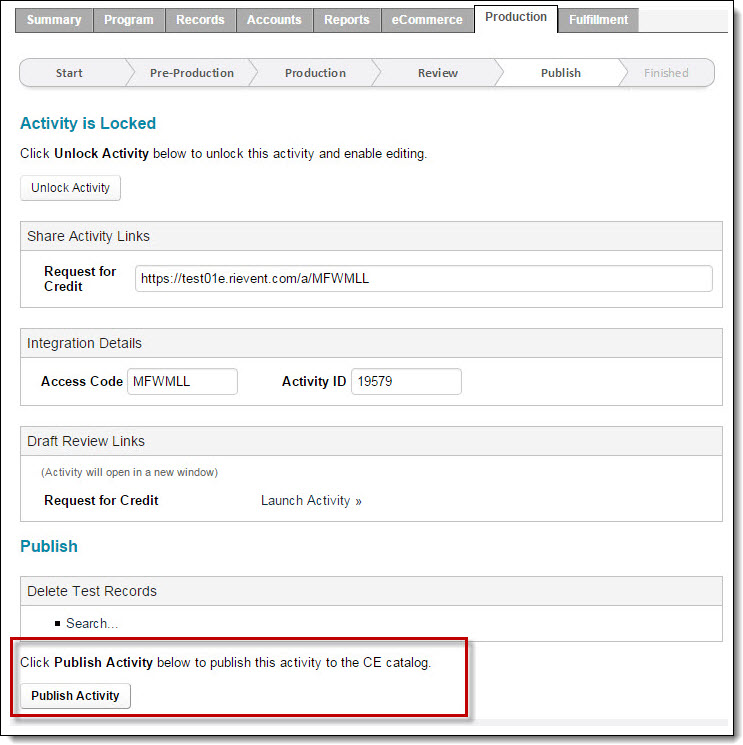 The "Administrative Dashboard" is now the "Administrative Portal"

"Venues" have been updated to "Locations"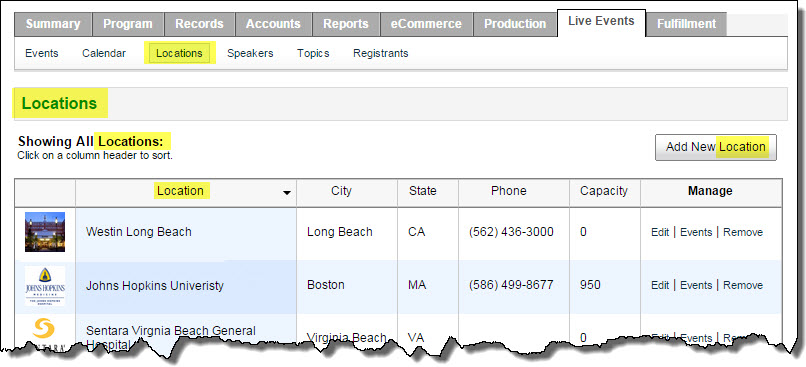 "Faculty" has been updated to "Speakers"

Learner Features:
NEW! Events Calendar. The Events Calendar provides a view of all available upcoming Live Events, Live Webinars, and Regularly Scheduled Series sessions. Learners can use the date range tool, available meta-data terms, or the search field to quickly locate and register for an event.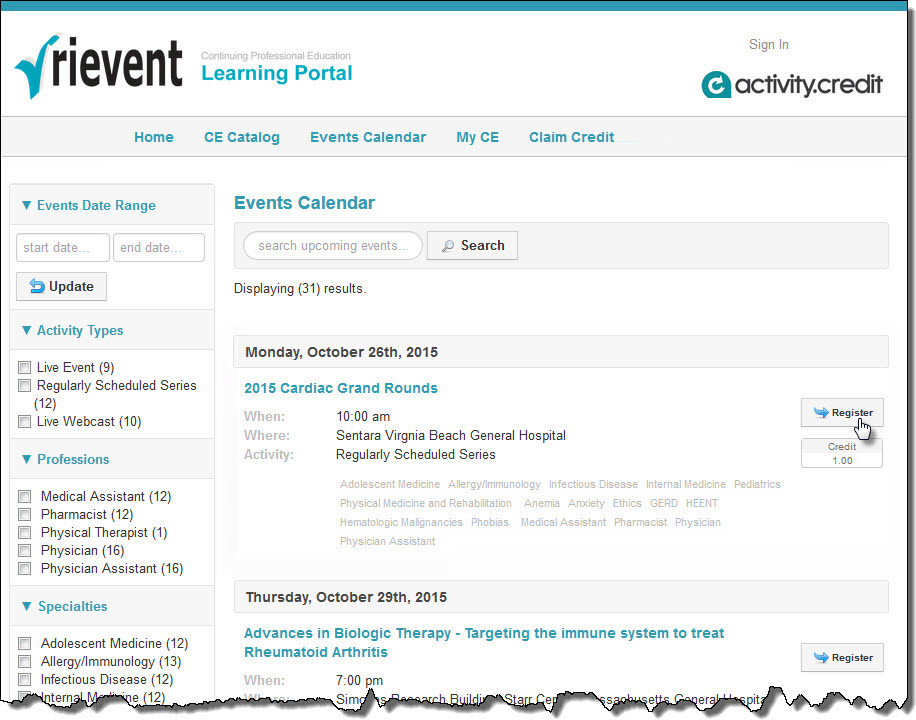 NEW!

RSS Registration.

 For Regularly Scheduled Series, learners can now register for the series from the Events Calendar. This allows them to create a profile (if they haven't already) and select the credit type they are planning to claim for the series, all ahead of attending their first session.  Once they attend their first session, all they have to do is log on and enter the code to claim credit.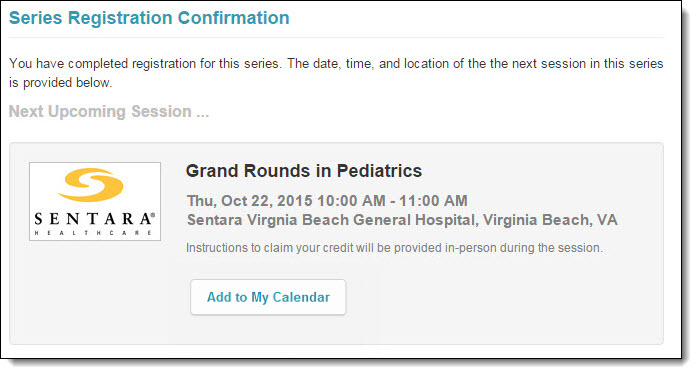 NEW! Add to Calendar button. After claiming credit for an RSS session or registering for an upcoming session, a new Add to Calendar button makes it easy for learners to add the next session in the series to their calendar.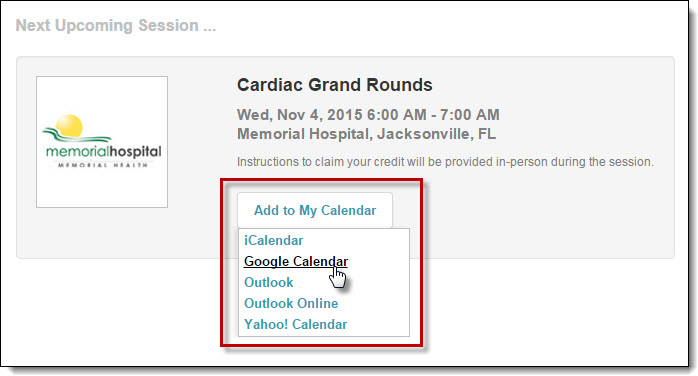 Feel free to let us know how these enhancements help you manage your continuing education activities. Your feedback is valuable to us.