At Rievent, improving customer satisfaction is important to us.  So starting Monday, February 16, 2015, we will begin sending a one-question survey whenever a support ticket is resolved.

This is how it will work: 24 hours after a ticket is marked as resolved, the person who opened the ticket will receive an email asking them to rate their satisfaction with the resolution of the ticket.  It will not be necessary to be logged into the support portal to respond. One click from the email will let us know if your experience was good or bad. Once you let us know, you will have the option to elaborate using an open text field.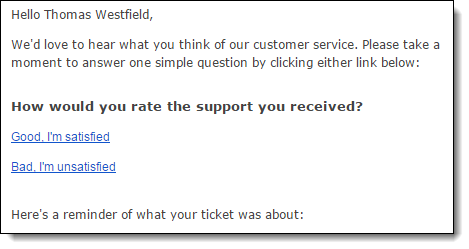 We look forward to having your feedback!